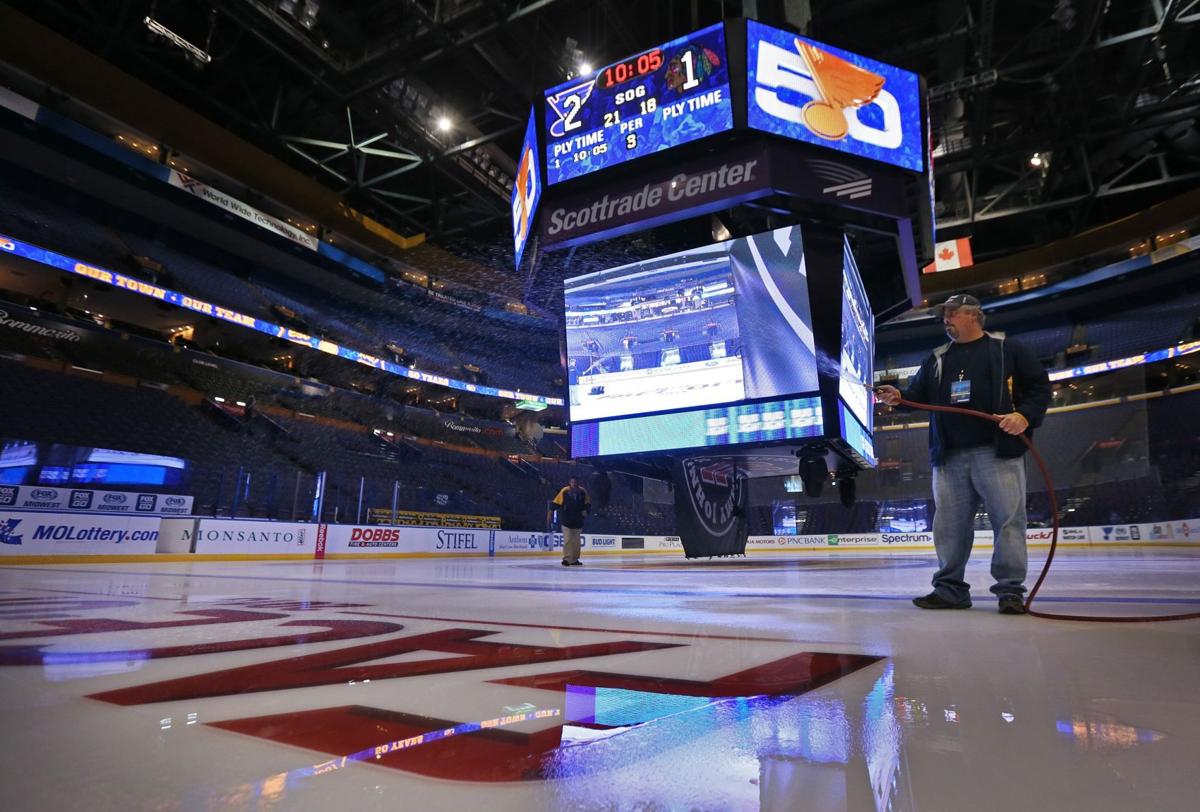 Blues-print for success: 'Keep getting more kids involved'
Last spring, the Blues went deeper into the playoffs than they had been since Ronald Reagan was president. On Wednesday night in Chicago, they open a season that represents their 50th year of existence. They do so in an environment that no longer includes an NFL competitor and is without postseason baseball for the first time in six years.
These are not just celebratory times for the local hockey club. These are opportune times. A chance to explore new territories. An opportunity to grow the fan base.
The economics of the landscape always have been challenging. The confining nature of unfavorable concessions and TV contracts, a shrinking corporate community and the pricing dynamics of the industry make it difficult for the Blues to make book.
Success on the ice is most impactful. The team has topped the 100-point plateau in each of the last four full seasons. The Blues ranked 13th among the 30 NHL teams in average home attendance last season, at 18,450, or nearly 1,000 more fans than in 2013-14. And there's room to grow; the Blues ranked 21st in home capacity percentage, at 96.3.
The visibility of an active Blues alumni group and the dedication of many laypeople have nurtured a vibrant youth hockey community in St. Louis. That fact was illustrated by the NHL draft in June, when St. Louis produced four of the first 15 picks in the first round and five of the first 30.
I would say, we're in an interesting time," Blues vice president Chris Zimmerman said. "There's no NFL football. We're all disappointed the Cardinals didn't get a chance to play in the postseas
Obviously, it puts a spotlight on hockey a bit earlier and, coupled with all these other initiatives, it's a unique opportunity for us to keep getting more kids involved.
Among the Blues' initiatives is the "Hockey STL 2020" campaign announced last November. Its goal is to develop 5,000 new players and grow the game by 70 percent in the region by 2020. The team has committed $2 million to that end over the next five years.
The history of the Blues and their involvement in youth hockey really has been driven by the alumni," Zimmerman said. "They have been coaching, they've helped get rinks built. As we come into this next period for hockey in St. Louis, we are going to invest more, more in dollars and in programs to spread the game and spread the word of the game.
In some cases, delivery on the promise has been dramatic. On Sept. 23, the team invited 9-year-old Kathryn Lankau to Scottrade Center to watch a training camp session. Four years ago, Lankau lost her father unexpectedly when he became ill and died suddenly of septic shock at the age of 40.
Like her father, Kathryn has become a hockey fan, but the costs of participating were prohibiting to her tragedy-impacted family. When the practice session was over, Lankau was surprised by her favorite Blues player, Jaden Schwartz, who presented her with new equipment from Total Hockey and invited her for a skate.
Through ManAdvantage, an organization that provides opportunities for children affected by unthinkable loss, the Blues also facilitated Kathryn's enrollment into a "Learn To Play" program.
It's indescribable," her mother, Toni, sa
In other cases, the franchise's commitment has been illuminating. Bill Baker is the state championship director for Missouri Hockey Inc., the USA hockey affiliate that administers amateur hockey in Missouri.
When Baker began running the tournament eight years ago, he talked to existing board members about reaching out to the Blues for support. They told him it was a waste of time. He tried anyway — and found they were right.
It just baffled me," Baker, 51, said. "When you look at what their business model is, and look at who's playing in the tournaments that we run ... It's their future custome
We would talk to people up in Chicago and all we would hear is how, 'Everybody from 6-year-olds to seniors play for the Blackhawk Cup. It's got a Blackhawks logo on it and everything.' And I'm like, 'I can't even get the Blues to give me 50 cents.' It was really baffling that they just wanted nothing to do with it.
Missouri Hockey is the umbrella for youth associations from near and far. Its youth division clubs represent Kansas City, Northwest Arkansas and Decatur (Ill.), in addition to the immediate area, and every team plays in the season-ending state tournament.
In past years, the state champions have received a glorified participation medal and a T-shirt sponsored by a trucking firm. In past years, phone calls to the Blues were answered with one qualifying response — "How many tickets are you going to buy?"
That was then. This is now.
Last summer, Baker was invited to sit down with Blues vice president of community and partnership development Steve Chapman and director of community relations Randy Girsch. Baker spent most of the time pinching himself to make sure he wasn't dreaming.
The meeting produced a new model for the state championship tournament, now called the Bluenote Cup. The 19 division champs will receive a substantial team trophy and a shirt with the Bluenote on it.
In addition, the Blues are partnering with Missouri Hockey to host the Heartland of Hockey Holiday Invitational Tournament, which will be played in late December, in association with the 2017 NHL Winter Classic at Busch Stadium. The team is helping promote these events on its website and in other ways.
They were throwing out ideas and, literally, my jaw was hitting the table," Baker said. "I thought to myself, 'You're not only exactly what I'm looking for, but you're the people who should be in that position. You get the fact that I'm touching every single kid in this town that plays hockey with one tournament.'
That said, the Blues aren't just helping kids play, they're showing kids how. They have partnered with Missouri Hockey to promote and facilitate "Little Blues," a learn-to-play program for kids ages 5 through 8. Zimmerman said the program included 250 children last year, and this time "we'll get closer to 450."
• ORTIZ: Is this the team that finally wins it all?
• TONIGHT: Allen will start in goal for Blues
• BLUENOTES: No roster surprises
• PREVIEW: Blues at Blackhawks
And that's not all. As a byproduct of the NHL/NHLPA's Industry Growth Fund, established in 2013 to market and promote hockey in NHL cities, the Blues are reaching out to area schools and camps.
Thus far, the team has visited 21 schools and seven summer camps. Team representatives make a presentation to introduce the game to students and demonstrate the skills involved. Equipment is then donated to be used in physical education programs.
The kids loved it," said Katie Seversen, a sixth-grade physical education and health teacher at Rockwood South Middle School. "They loved playing hockey and asked the rest of the year if they could play oft
Yes, I think they became more interested in hockey because of the program. They asked to play frequently and had so much fun. They were excited to wear the goalie gear and were so excited to play.
Last year, the NHL estimated it reached 25,000 kids through the leaguewide efforts. This year the number is expected to double.
The final piece of the puzzle is ensuring kids have facilities in which to play. The hockey community suffered a blow last spring when it was announced that the Iceplex in Chesterfield has been sold to a Dallas-based group and will be converted into a Top Golf entertainment complex.
The facility, scheduled to change its stripes in late March or April, includes three sheets of ice, or some 17 percent of the available ice surface in the area.
To address the situation, the Blues have established a nonprofit, "Legacy Ice Foundation," which is positioned to promote and foster facility development. The initial project involves a partnership with St. Louis County and a plan to build a four-sheet facility in Creve Coeur Lake Memorial Park.
The "St. Louis Ice Center" would have a main rink with seating for 1,800 spectators and a team training center. Three additional ice sheets are planned — two for youth hockey and one suitable for the college game.
It's a vital piece of the Blues-print. When the NHL arrived 50 years ago only a handful of ice rinks existed in town. Now the community is producing elite amateur players and operating in a more condensed market. With last spring's playoff run, with a golden anniversary season opening up, with an outdoor game at Busch Stadium, hockey is more present than ever in St. Louis.
But you need the facilities to keep that moving forward," Zimmerman said. "So that's an important third leg in our program.
The Blues aren't just celebrating the past 50 years in 2016-17. They're looking toward the future.
Read the full article
here